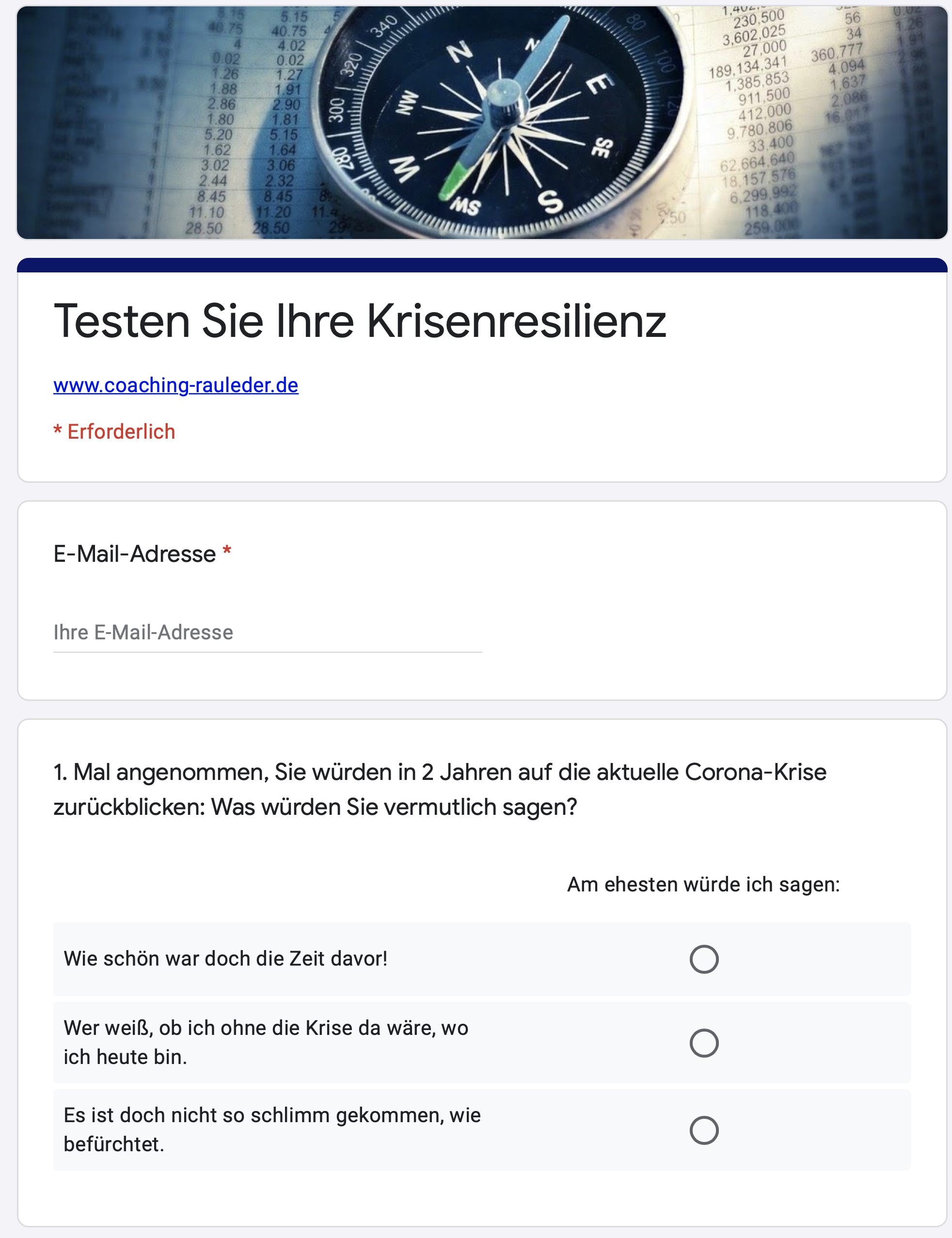 1. Testen Sie Ihre Krisenresilienz
Im Nachhinein lassen sich Krisen schön in 5 Phasen einteilen: 1. Ignorieren, 2. Ärgern, 3. Verhandeln, 4. Verzweifeln bis zu 5. Akzeptieren.
Aber wie "krisenanfällig" sind wir im Vorhinein? Welche Glaubenssätze, Erwartungen und Verhaltensweisen lassen uns mehr oder weniger gut eine Krise überstehen?
Diesen Selbsttest hier mit nur 10 Fragen und jeweils 3 Antwortmöglichkeiten habe ich aus den 10 wichtigsten Fragen beim systemischen Coaching entwickelt: sie lassen sich sehr gut im Vorhinein zum Selbst-Coaching einsetzen und zeigen neue Denk- und Handlungsmuster auf. Es geht hierbei nicht um "richtige oder falsche" Antworten, denn was dem einen Menschen hilft, kann dem anderen schaden. Gleichzeitig ist eine gewisse Korrelation zwischen Denkmustern und Krisenresilienz beobachtbar. Manche Musterunterbrechung kann uns so helfen, eine Krise besser zu meistern.
Sie können eine vertrauliche Auswertung Ihres Tests bei mir anfordern, indem sie am Ende einfach auf "Senden" klicken. Alternativ können Sie die Auswertung auch gerne selbst vornehmen: schicken Sie mir einfach eine E-Mail hier, ich maile Ihnen dann den Antwortenschüssel samt Denkanstösse.
"Die schwierigste Zeit in unserem Leben ist die beste Gelegenheit, innere Stärke zu entwickeln." 
Was ist beim Präsentieren entscheidend?
Welche prozentuale Bedeutung haben Ihre Inhalte, Stimme und Körpersprache für eine gewinnende Präsentation?
Die Antwort finden Sie eine Seite weiter!
Richtige Antwort: SIE
Das Entscheidende für eine gewinnende Präsentation sind SIE: Ihre Körpersprache, gefolgt von Ihrer Stimme – der Inhalt macht nur 7% aus!
Was bedeutet das für Sie?
Beschäftigen sie sich vor Ihrer nächsten Präsentation weniger mit den Inhalten, sondern erinnern Sie sich an ein Erfolgserlebnis oder Glücksgefühl und gehen so in "gehobener Gestimmtheit" auf Ihre Bühne – Ihr Publikum wird begeistert sein!
2. Testen Sie Ihre Prioritäten beim Präsentieren
Sie kennen das Bild: die letzten Minuten vor einer entscheidenden Präsentation verbringen viele Menschen mit dem angestrengten Rekapitulieren ihrer Seiten.
Doch was honoriert Ihr Publikum wirklich? Welche prozentuale Bedeutung misst es den Erfolgsfaktoren "Inhalt, Stimme und Körpersprache" bei?
Empirische Studien zeigen alle in dieselbe Richtung: das Ergebnis finden Sie auf der zweiten Seite des Balkendiagramms!
"Das Erfolgsgeheimnis besteht darin, den Standpunkt der anderen Person zu verstehen."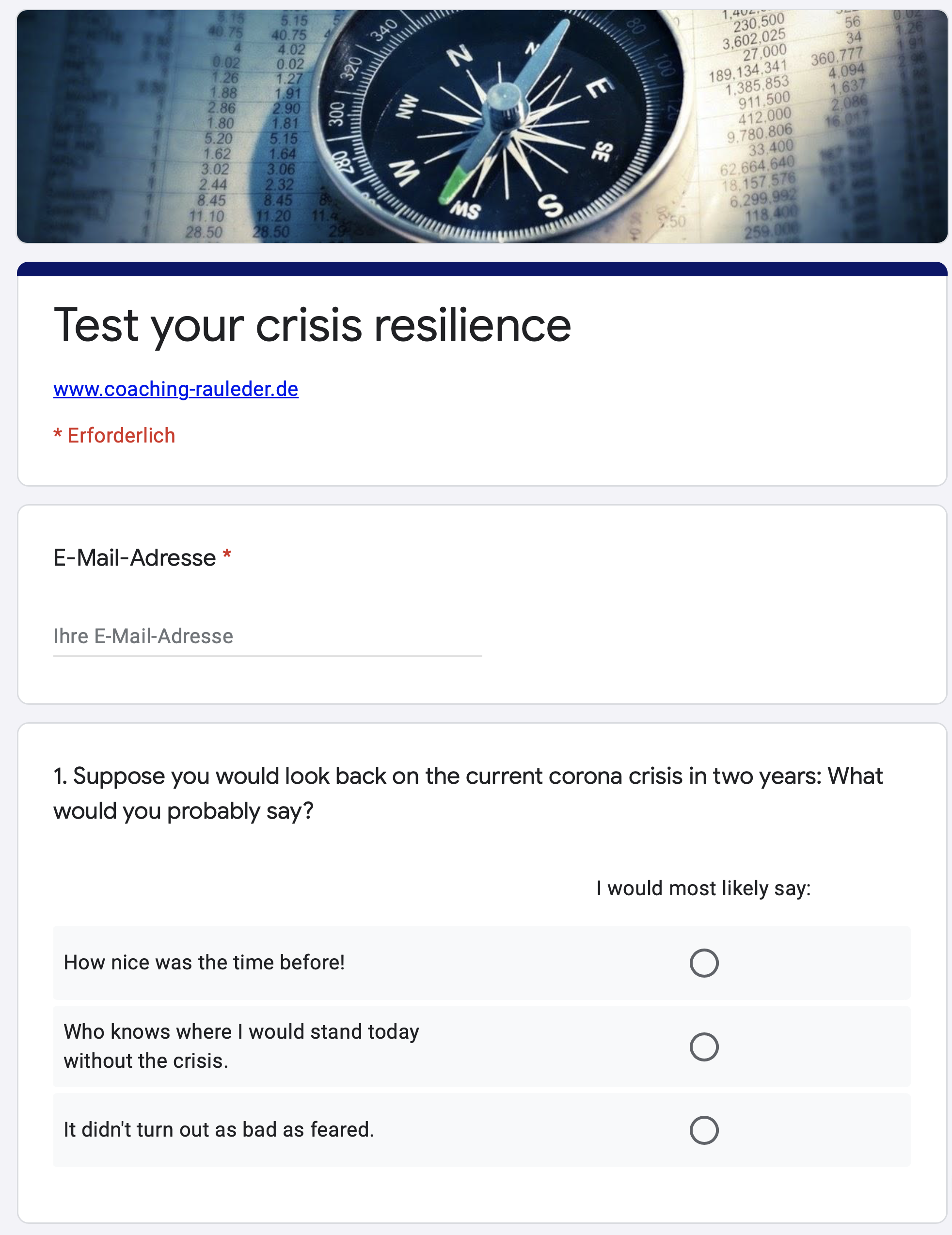 1. Test your crisis resilience
In hindsight, crises can be nicely divided into 5 phases: 1. Ignore, 2. Anger, 3. Negotiate, 4. Despair up to 5. Accept.
But how "crisis-prone" are we in advance? Which beliefs, expectations and behaviors let us survive a crisis more or less well?
I developed this self-test here with only 10 questions and 3 possible answers each from the 10 most important questions in systemic coaching: they can be used very well in advance for self-coaching and reveal new thinking and action patterns. It is not about "right or wrong" answers, because what helps one person can harm another. At the same time, a certain correlation between thought patterns and crisis resilience can be observed. Some pattern breaks can help us to better manage a crisis.
You can request a confidential evaluation of your test from me by simply clicking on "Send" at the end. Alternatively, you can also do the evaluation yourself: just send me an e-mail here, and I will then email you the answer key with some food for thought.
"The hardest time in our lives is the best opportunity to develop inner strength."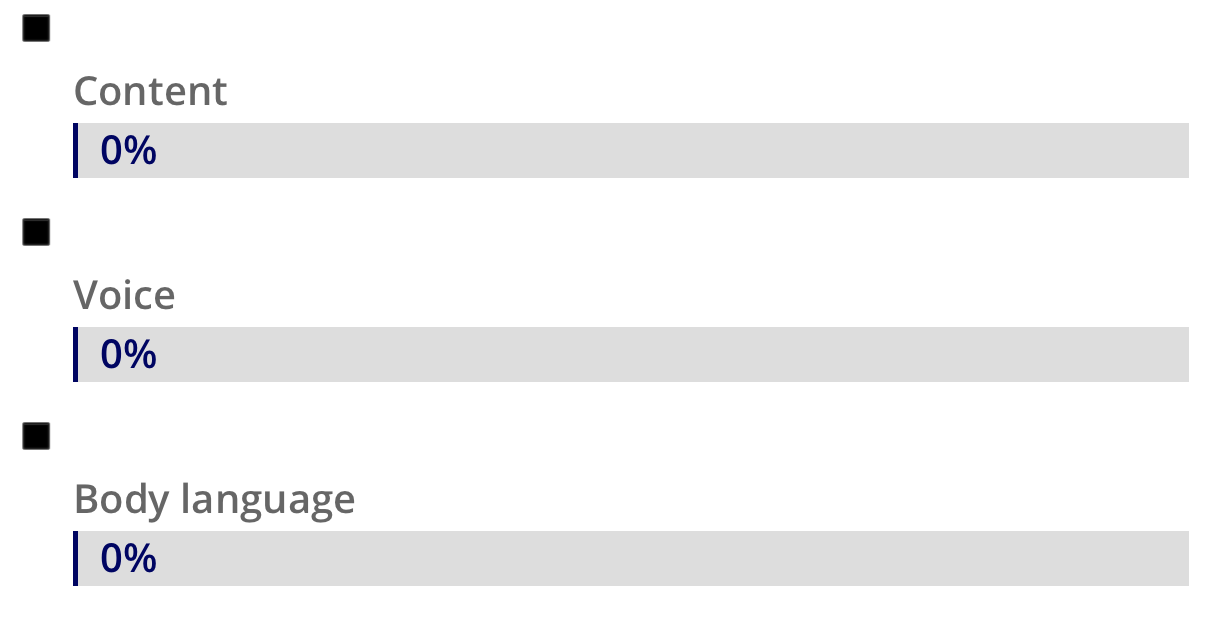 What is decisive when presenting?
What percentage importance do your content, voice and body language have for a winning presentation?
You will find the answer one page further!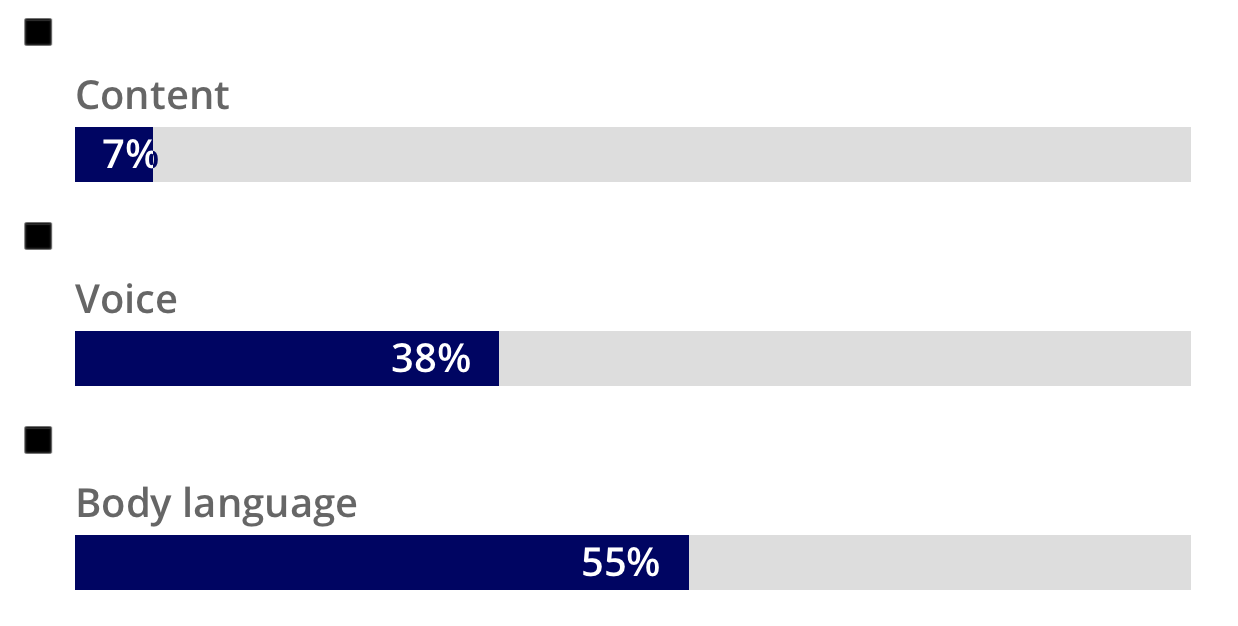 Correct answer: YOU
The decisive factor for a winning presentation is YOU: your body language, followed by your voice – the content only makes up 7%!
What does that mean for you?
Before your next presentation, deal less with the content, but remember a sense of achievement or happiness and go to your stage in a "high spirit" – your audience will be thrilled!
2. Test your priorities when presenting
You know the picture: the last few minutes before a decisive presentation, many people spend trying to recap their pages.
But what does your audience really appreciate? What percentage importance does it attach to the success factors "content, voice and body language"?
Empirical studies all point in the same direction: you find the result on the second page of the bar graph!
"The secret of success is to understand the other person's point of view."